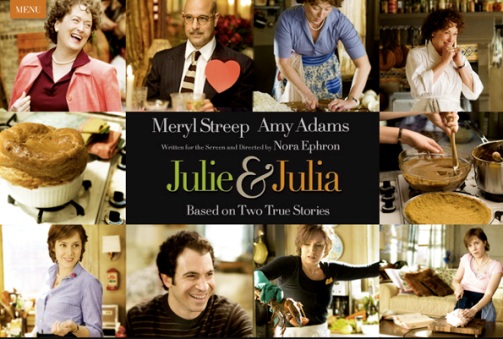 This weekend after my younger son's eye exam (not ready for glasses yet, but soon) we had dinner at Provino's, a delicious family Italian restaurant.  I had the Spinach Tortellini, David enjoyed the Shrimp and Scallop Fettucine, and the boys both got something equally rich and delightful.  It was the perfect meal to precede our family going to see Julie & Julia.  Believe me, we heard many groans about not going to see G-Force, the movie the boys wanted, but we insisted.  And?  They loved it!  Nora Ephron knows how to make a classic, and the Julie & Julia DVD will definitely be on my Christmas list.
I actually met Julia Child once in Atlanta when she was touring to promote her book The Way to Cook.  She appeared at a hotel at Lenox Square, and guests had lunch and got to submit questions for her to answer.  To my delight, she chose my question, which was "What's the best way for a newlywed to learn how to cook ?"  Her answer was to master the basic dishes, and you could change them in a variety of ways to have a great range of recipes.  The best part about that whole experience is David surprised me with it:  we had been watching Nathalie Dupree on PBS so we could both learn how to cook, and when he heard about Julia Child in town, he immediately bought a ticket for me!
What I loved about watching Nathalie Dupree is that she was total mess in the kitchen, but still managed to pull off great recipes.  My favorite Nathalie moment was when she put the hot pads on the stove, was talking to the camera, and the hot pads caught on fire.  She put them out, smoke and all, continued talking, and left the whole scene in.  I concluded after watching Nathalie that if she could cook, so could I.
After watching Julie & Julia I pulled out my Julia Child cookbooks just to reminisce, and my turned-down pages were on these recipes:
Chicken and Vegetables in White Wine
Soup au Pistou
How to Boil Rice (really – I learned how to do this from Julia!)
After the movie I asked if everyone would like me to make a Julia recipe every month, and it was a resounding yes!  I've been doing a lot of 30-minute-type meals with the busy schedule of a working mom, but sometimes we all need slow down and savor life.  Bon Apetit everyone!